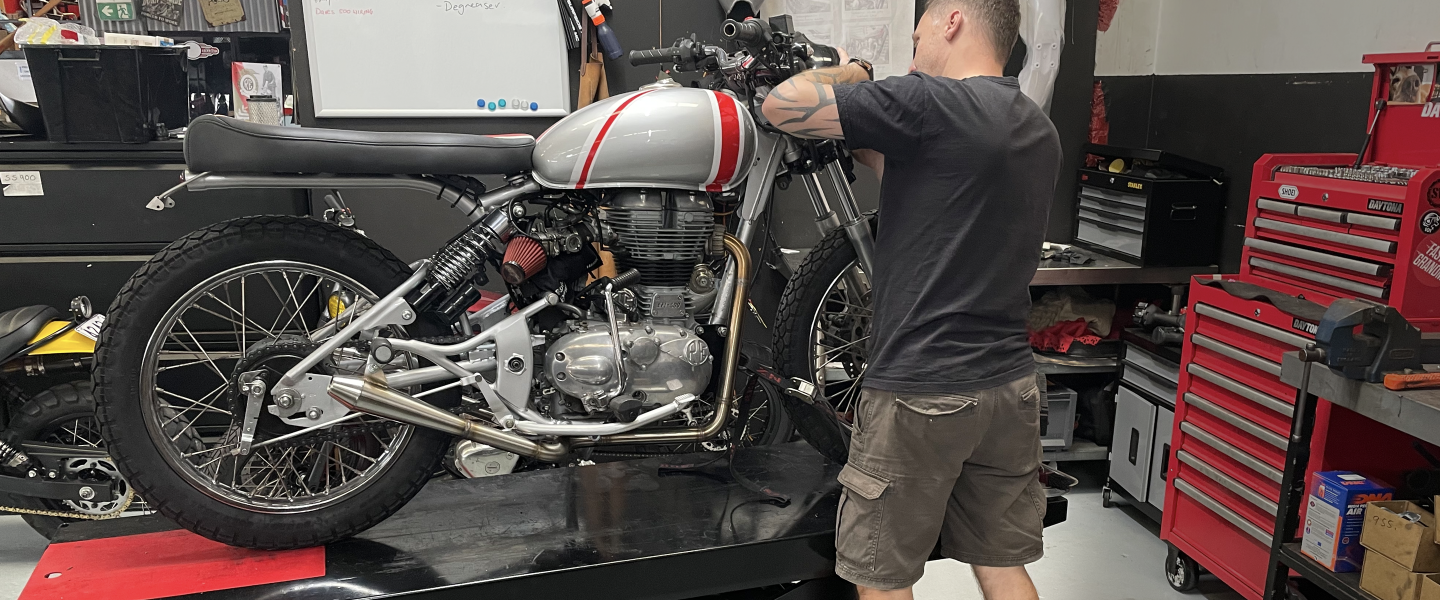 An old-school workshop in a modern world.
Our mantra from day one has been "if it has two wheels and an engine, we can sort it out".
Over the years that has meant we have had an amazing cross-section of machines through the workshop. Every kind of machine has been on the bench – 2 strokes, rotaries, four strokes – singles, twins, triples, fours and sixes.
With years of race experience and fabrication expertise we can usually make what we cannot source. We specialize in restorations and custom builds and are always happy to talk about projects – be it getting a long dormant family heirloom running again through to building something wild with a supercharger.
A small cross-section of our work
Book a service
Get your ride feeling like now
"I'm loving it! It's the perfect old school dirty workshop"
Tommy
I'm a jack or all trades really. I love it all… I'm a mechanical engineer but specialise in fabrication, welding, sheet metal work. Plenty to keep me busy with.
Experience:
Expertise:
First bike:
Current bike(s)
Ultimate bike
33 years
Custom builds, Fabrication, welding, sheet metal
Jawa 350 (I was 16 years old)
Custom built W650 Kawasaki, Enfield 500 & Himalayan
Kawasaki H2R or my next custom build!
"I love keeping the workshop and the boys in order"
Andrea
Andrea is our Sales Manager, focused on getting customers on the right bike and making sure that they enjoy the whole purchase experience. Friendly, experienced and passionate about all things Royal Enfield she rides her custom Interceptor out of hours.
Worked on cars originally back in NZ and had a business that taught women all about cars and how to work on them and basically get their hands dirty. After I bought my Rumbler from these guys at Surfside I switched to two wheels and now I'm hooked. I have been working on my own customised Interceptor with the guys here, I love it.
Experience:
Expertise:
First bike:
Current bike(s)
Ultimate bike
A lady never discusses years
It was old cars but I'm learning from the boys here
Enfield Rumbler 350
Interceptor 650 Custom
I want everything……
Previous
Next
"We work to a standard, not a price"
Uncle Phil
The guys had just opened Surfside and at one of their shindigs we got talking, at the time I was detailing bikes for the love of it. I'd been doing it free for about 6 years! We both saw an opportunity and here I am. But I dont consider this work, its my stress reliever. I will never not have a bike. Nor will I stop working on bikes. I'm completely addicted.
Westy: 'I thought I could detail, Not any longer Phil is the absolute master!
Experience:
Expertise:
First bike:
Current bike(s)
Ultimate bike
50+ years
Detailing to the next level!
Honda SL125 '72 (I was 15 years old)
Kawasaki Ninja 1000 2011
Kawasaki H2R
"People are alright I suppose but I just love motorcycles"
Will
I was orphaned and they found me in a skip by the front gate.
Growing up everyone around me wanted to be a Fireman, Doctor or Footballer, but I just wanted to be a motorcyclist.
Now I'm the the apprentice here, learning from the best which suits me just fine.
Experience:
Expertise:
First bike:
Current bike(s)
Ultimate bike
10 years
Absorbing knowledge from the old guys
Honda VT400 (I was 17 years old)
'97 Harley Davidson FXD SCON
'97 Harley Davidson FXD SCON
You might also like…
BIKE SALES
PARTS
WHERE
WHEN
(02) 9905 8989
(02) 9905 4755
42 Winbourne Road, Brookvale NSW 2100
Monday to Friday: 8:30am – 5:30pm
Saturday 9:00am – 5:00pm
Sunday: Closed – as we'll be out on our bikes!

About us


Contact us


faqs


terms


privacy



© Copyright 2021 Surfside All Rights Reserved